HGV driving involves working unsociable hours, driving vast distances and working in all weather conditions: conditions that can be challenging, to say the least.
So it's no surprise that the industry supports and enforces drug testing amongst HGV drivers, in order to keep both them and other road users safe.
In this article, we explore how such testing works, HGV drivers' rights, and the implications if a driver does test positive.
HGV drivers and drugs: The law
The same drug driving laws that apply to car drivers also apply to drivers of HGVs. These laws state that it is illegal to drive if an individual is unfit to drive because of illegal drugs in their system, or if the level of illegal drugs in their system is above a particular cut-off.
However, it is not just illegal drugs that are included in this legislation. Drivers can also be penalised if they drive while using certain prescription medications. In England, Scotland and Wales, it is illegal to drive with legal drugs (ie prescription medications) in your system if it impairs your driving - whether they have been prescribed or not. This list of drugs includes:
Amphetamines
Clonazepam
Diazepam
Flunitrazepam
Lorazepam
Methadone
Morphine or opiate and opioid-based drugs, such as codeine, fentanyl or tramadol
Oxazepam
Temazepam
The penalty for a drug-driving conviction is severe, and may include:
An unlimited fine
A driving ban of a minimum of one year
Up to six months in prison
A criminal record
For an HGV driver, this would most likely spell the end of their career - as well as having serious implications for their chances of success in another field. In the US, new 2020 research suggests that nearly 300,000 truck drivers would fail a hair drug test if forced to take one - highlighting the fact that hair testing is far more accurate and far less easy to cheat than the urinalysis currently used across the US trucking industry.
So, what are the current rules on testing UK HGV drivers for the presence of these legal and illegal drugs?
Drug testing for UK HGV drivers
When applying for or renewing (once every five years - or annually if aged 65+) an HGV licence, drivers are required to take a medical exam, which is conducted by a doctor. As part of the test, doctors will look for signs of drug or alcohol misuse, with official guidance stating that a licence is likely to be refused if the applicant cannot meet medical guidelines for alcohol or drug misuse in the last year, or alcohol or drug dependence in the last three years.
However, there is currently no legislation that states that HGV drivers must be tested by their employers.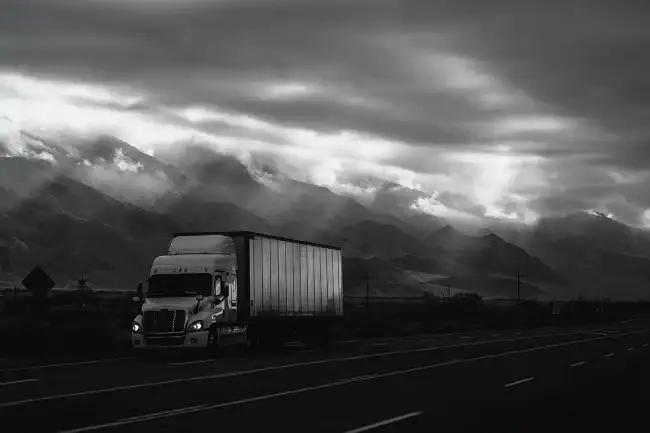 This does, however, vary from employer to employer. A thread on a UK truck drivers' forum recounts users' accounts of how some employers past and present will test in two different situations: some utilising random drug tests, and some testing individuals after an accident has occurred.
While employers may not all test their drivers for drug use, HGVs can still be stopped by police for roadside tests. Last year, an HGV driver in Leicestershire was tested at the roadside (and later also via a blood test) and was found to have cannabis in his system, leading to an automatic driving ban.
"The UK approach is very different to those utilised for HGV drivers elsewhere in the world."
The UK approach is very different to those utilised for HGV drivers elsewhere in the world. In Brazil, for example, drivers must undergo hair drug and alcohol testing once every two and a half years in order to be able to renew their licence. What's more, they are responsible for paying for this testing themselves: an important factor, says the Brazilian government, in helping to keep positive test rates low.
Why is drug testing for HGV drivers so important?
Quite simply, drug testing for HGV drivers ensures that both the drivers themselves and other road users are not subjected to any unnecessary danger. By conducting regular, random drug tests, fleet managers can be reassured that they are reducing risk on the roads, as well as helping any individuals who test positive to get the help they need before the problem becomes even greater.
In some industries, such as aviation, employers will include a mandatory drug test as part of the application process for new hires. Not only does this help to avoid choosing candidates with existing drug issues, it also signals a company's commitment to stamping out drug misuse from the very start.
Hair strand testing for HGV drivers
In March 2015, new regulations were introduced that allowed police to use "drugalysers" to test for the presence of certain drugs at the roadside. Should these oral fluid tests produce a positive result (or if police still have their suspicions), drivers can be tested again at the police station using a blood or urine test.
Our recommendation would be for employers to consider hair strand testing in addition to existing roadside tests. A hair strand drug test is among the most accurate laboratory tests for drugs and alcohol – and is almost impossible to cheat. The method can be used to detect virtually all drug and alcohol substances, between seven days and six months after their use. A hair strand test would help employers identify if abuse was ongoing, and if the driver in question needed additional help.
While drug testing may not be a legal requirement for employers of HGV drivers in the UK, the fact remains that driving under the influence of certain illegal and prescription drugs is against the law, and can be punished with hefty penalties. Fleet operators should consider introducing random and post-accident testing to demonstrate that they take safety seriously, and to help their drivers to get the support they need in a role that is not without its risks.
Looking to find out more about implementing a hair testing programme in the workplace? Get in touch.