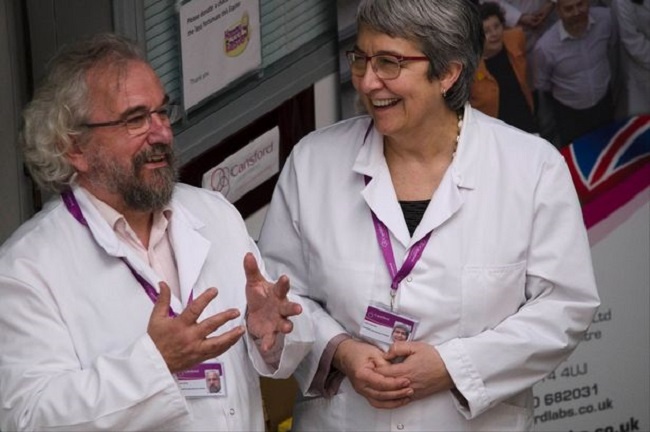 Not all hair testing labs are created equal. There are labs that do the bare minimum, and labs that lead the field in best practices and continuous new research.
Cansford strive to be the best in hair testing, from the way we collect samples to the way we manage accounts, our interpretation of results and our appearances as witnesses on the stand.
Here are eight ways we go about differentiating ourselves from the competition.
1 - Speed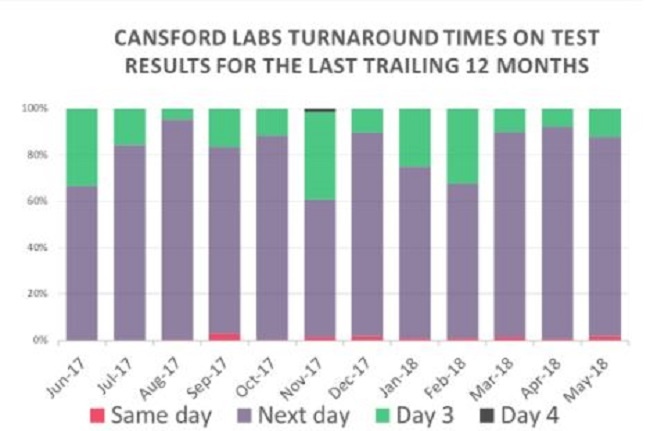 A consistent 60-80% of our tests are turned around within 24 hours from sample receipt and 99% within 48h. We don't rush - that way lies contamination and human error - but we have built up an efficient, fast-moving process. The sooner the results are in, the sooner the next stage in your recruitment or legal process can begin.
2 - Experience
Our founders John and Lolita started hair testing in 1993. This is why our processes balance speed with reliability: we have 25 years' experience in delivering accurate test results. We've worked with governments in the UK and Brazil to reduce costs, increase reliability, and bring hair testing further and further into the legal sphere.
3 - Knowledge
Our founders' work in 1993 was pioneering and continues to be so. In many cases, John and Lolita literally wrote the book (or several publications to be exact) on drug use in the British population, workplace drug testing, and practical interpretation of hair test results. This last point is a particular strength of ours - we understand the meaning of the results. It's the nuances: substance abuse matters in drug and alcohol cases, of course, but the behaviour of the substance user is perhaps more crucial. Test results are only part of the story: they're for illuminating and understanding a case, not solving it.
4 - Facilities
Not every tester owns their own laboratory. Many testers have to send their tests off to Europe or to other labs in the UK - sometimes even to us! Owning our own labs and testing equipment means we have full control over the results and the process we use to achieve them. If we have our doubts about a result, we can run the test again, and if we need new equipment, we can source it reliably.
5 - UK-based
We're familiar with British employment, family and educational laws and institutions. The institutions we work with don't need to wait long for samples to travel to our lab in Cardiff, nor is there a lengthy wait to get the results back. With the changes Brexit is likely to bring to laws, processes and resourcing, our UK clients can count on us to continue with business as usual.
6 - Community involvement
We hosted the 2017 Meeting of the Society of Hair Testing (SoHT), welcoming and sharing best practice with luminaries like Dr Pascal Kintz (the father of hair testing), toxicology pioneer and SoHT veteran Dr Markus Baumgartner and addiction epidemiologist Dr Michelle Taylor.
We haven't rested on our laurels since then, either - we keep up with reports and talks from the workplace health and social care industries. It's how we understand how our test results are going to be used, and what the professionals we work with need to know.
7 - Personal approach
We know that our clients value clarity in our results - and reports that they can understand. We know they need fast turnarounds for the high-priority cases they work with - cases which often need to be closed in twenty weeks. We know they need a single point of contact - a dedicated account manager they can work with one-to-one for the duration of their case, and who'll be with them from end to end. We know because we've asked them - and that's what we deliver.
8 - We care
At the bottom line, we care. We keep up with developments in family law, and in drug policies around the world. We look ahead, to how the field is going to change with changes in society at large. When our clients struggle to parse our test results, we guide them through the process - and we help them understand how our test results can improve the health of their businesses and the futures of their families.
It would be one thing to open a testing lab, do the day job and go home. We don't do that. We live, breathe, study, talk about and share the best of hair testing. That's what puts us ahead of the competition - and it's why you should choose us as your testing lab.
Subscribe to Email Updates