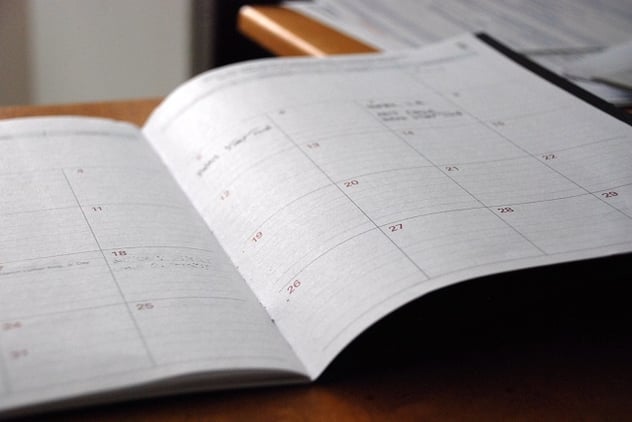 Whether you're looking for conferences, new legislation dates, report publication or any other event, the social care and social work calendar is jam-packed for 2018.
To give you an overview of the most important happenings, publications and anniversaries of the year, we've pulled together a month-by-month guide to ensure that you stay at the top of your game.
January 2018
Friday 19th: Caldicot Guardian National Conference 2018, London. This year's Caldicott Guardian conference has a focus on ethical decision making and the duty of candour, including case reviews, knowledge sharing and plenty of networking.
February 2018
Friday 23rd: Information Governance in Health and Social Care: Ensuring Compliance with GDPR, London. The General Data Protection Regulation comes into force in May 2018, and this conference focuses on the key changes that health and social care bodies will be required to make.
March 2018
TBC: Entries open for Social Worker of the Year Awards. As in 2017, expect awards in 16 categories across both children's and adult' services, celebrating the achievements of teams and practitioners across the country.
TBC: "High conflict pathway" guidelines take effect. New guidelines are set to come into force for Cafcass frontline case workers, in a bid to improve the handling of suspected parental alienation cases.
Monday 12th: Compass Jobs Fair, Birmingham. This event offers the chance for those in the sector to discover the latest training, career development and employment opportunities in social care and social work.
April 2018
Centenary of the establishment of the Joint University Council for Social Studies. This year marks 100 years since the JUCSS (now JUC/SWEC) was formed, with WW1 having highlighted the need for greater social studies training.
Wednesday 18th to Friday 20th: 8th European Conference for Social Work Research, Edinburgh. This year's conference theme is "Social work in transition: challenges for social work research in a changing local and global world", with a range of papers, posters, workshops and symposia on the subject.
Tuesday 24th to Wednesday 25th: Community Care Live, Manchester. The largest free-to-attend social work event in the UK, hosting key bodies and thought leaders, over 50 exhibitors, CPD opportunities and more.
May 2018
Monday 21st: The North West Social Work Show, Manchester. Free for all visitors, this is an event for social workers of all levels to network, share and learn, as well as finding their next potential career move.
June 2018
Friday 8th: Improving Practice in Analytic Report Writing, London. An experiential workshop designed to improve the quality of analysis in social workers' written work, sharing good practice in social work assessments.
July 2018
TBC: Green paper on older people's social care to be published. The government is set to publish a new paper on social care for older people this summer, setting out plans for reform to address the social care crisis.
Wednesday 4th to Saturday 7th: Joint World Conference on Social Work, Education and Social Development, Dublin. The theme of this year's conference is "Environmental and Community Sustainability: Human Solutions in Evolving Societies".
August 2018
Sunday 26th to Thursday 30th: TIAFT 2018, Ghent. The International Association of Forensic Toxicologists are pairing with the Society of Hair Testing for their 2018 conference.
September 2018
TBC: Expected launch of new regulator, Social Work England. The new regulator will set standards for social workers and ensure public protection – although timescales are deemed ambitious and may face delays.
TBC: Community Care Live, London. This year's Community Care Live including extended training sessions and innovations like the Legal Learning Hub - expect more to come in 2018.
October 2018
Saturday 6th: 110 years since the first aspiring social workers gained full university student status. On this day in 1908, Birmingham University became the first to take full responsibility for training social students on a new one-year social studies course.
November 2018
Friday 9th: 20 years since the Human Rights Act 1998 received Royal Assent. The Act included articles covering basic human and civil rights for all citizens, which are still just as relevant today.
December 2018
TBC: First phase of accreditation tests for children's social workers. The Department for Education will be subjecting social workers to a four-stage assessment, in phase one of a national rollout to accredit all children's social workers by 2020.
Saturday 1st: 20 year anniversary of the publication of "Modernising Social Services". This Department of Health publication led to the creation of new institutions to regulate the social care workforce and social care agencies.
To stay up to date with the events Cansford Labs are involved in throughout 2018, check our events page and follow us on Twitter.